Sharing God's Love with our Community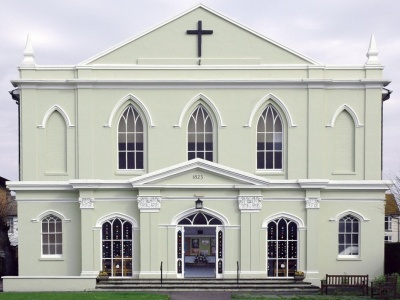 Sunday Services (10.30am)
The next services at Union Street will be inside the church on:
17 October (Geoff Harris)
24 October (Rev Dr Bonni-Belle Pickard)
31 October Local Arrangement
There is now no need to book in advance, but  we will make a list of attendees on the day and keep it for 14 days in case it is needed for track and trace in the event of a case of Covid being reported by a member of that day's congregation.
Entry is via the front door.
Hand sanitiser will be available at entrances, and all those attending are asked to use it
Chairs will be set out in widely spaced rows, and the congregation will be asked to leave a chair-space between their bubble / family group and others in the same row.
Members of the congregation will take responsibility for social distancing according to what they are comfortable with – please respect others who prefer not to shake hands, stand close etc. And please don't hesitate to ask others to give you space.
Masks are not compulsory, but we respect that some members will wish to wear them
Those who prefer not to wear masks and / or wish to sing are asked to sit towards the front of the church
Those who wish to wear masks are advised to take seats nearer to the back of the church.
Communion will be distributed by the minister and Communion Stewards along the rows, to keep movement of the congregation to a minimum.
Bread will be served on cocktail sticks to minimise handling as it is distributed
Cocktail sticks and glasses will be collected in baskets by the stewards.
We encourage members of the congregation to chat outside the church after the service rather than inside to minimise indoor contact
Online Sunday Services will continue at 10.30am – join the online service by going to the North Kent Methodist Circuit Website or Facebook page to find the live stream (opens 15 minutes before the service).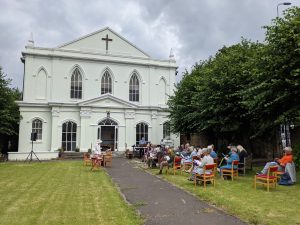 Rev Dr Bonni-Belle Pickard leading the service in the lawn on Sunday 3rd July 2021
Footsteps (4-11 years) (suspended until further notice)
Every Sunday drop your children off at 10.15am at the Brewer Street entrance and pick them up at 12 noon.
Bible stories
Arts and Crafts
It's like a mini-Messy Church
Foe more information contact Denis Makowski on 07739 184051 or email YoungPeople@usmc.org.uk
11.15am Tuesdays
(suspended until further notice)
11.15 Prayer
12.00 Frontline lunch meeting
Bring your own lunch
Tea and coffee are provided
Who are we?
We are a friendly Church which seeks to serve Christ in the world today.
For more details about membership, baptisms, weddings and funerals please contact our minister, Rev Dr Bonni-Belle Pickard.
Reverend Dr Bonni-Belle Pickard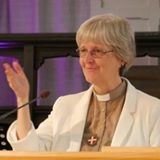 Bonni–Belle grew up in Florida United Methodism, spent 20 years as a music teacher at Kodaikanal International School in South India, and trained as a minister at Candler School of Theology, Emory University, Atlanta, Georgia (USA).  She has been a circuit minister in the British Methodist Connexion since 2001, serving previously in Birmingham and North London and, as a superintendent, in the Kingston circuit from 2008-2015 and North Kent Circuit since 2015.
Husband Alfred is a music teacher in local schools; they have grown children living on three continents. Bonni–Belle loves people, creativity, and following God into new adventures.
Maidstone International Community Church (MICC) @ Union Street
We share our premises at Union Street with Maidstone International Community Church (MICC)